This is my latest setup as of Jan 2022. It's like my 8th iteration since I bought the desk in June 2019. I've tried from ultra-minimalism to Gundam cockpit to Grab Themed setup. Right now I am settling with private streamer setup 😇
I'll start with a TLDR list of hardware that I use. Click on the links on the tagged photo above will bring you to a more detailed section below.
I have also shared both referral links and direct links, although it won't cost you anything extra to click on the referral ones 🙇🏻‍♂️
Hardware
BenQ ScreenBar
BigSofti Lighting
Carpio 2.0
Dell U2720Q
k2 Keychron
Mac Mini M1
MX Master 3
Nomad Station
Omnidesk 2019
Omnidesk Hestia
Rode Podmic
Sony 𝜶6400
Sonos Roam
Subzero rest pad
Viozon Mount
Viozon 6-in-1
Software
To be updated soon.
This page was last updated on 21st Jan 2022,
by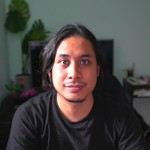 Ajmal Afif