"The greatest effects we have on the world are the ones we can never see."

— Chris Matakas, The Tao of Jiu Jitsu
I've been volunteering as an alumni for close to 2 years now. Some times I extended my hands to those who reach out, some times I just attend to Slack questions and even proactively approach based on interactions I noticed.
Over time, I've become close with some of them. I've reach out to them and they are kind enough to provide me with feedbacks and testimonials of our interactions and relationships we've made.
Feedbacks & Testimonial
"I began remembering Ajmal since the early of 2011 back in JomSocial. He is among the first who taught me growth mindset, self-fulfilment, and purpose. He introduced me with Tim Ferris's 4 Hours Chef and later Chris G's the $100 Startup, in which has led me to countless mindsets hacking philosophy such as the Pareto principle, fundamentally - to learn anything. I exercising the 80/20 principle in various aspect of managing life and work. He is a friend, a mentor and a self-starter and sharper by quality."
— Firdaus Adib (his Linkedin)
"I met Ajmal by happenstance during the time I was enrolled in Bloc (an online intensive program for front end development and design). I submitted a technical question to our program's Slack channel, and Ajmal responded with detailed notes describing how he would approach the problem along with guided questions to help me solve it. Naturally I assumed he worked for my program, but soon I learned that he was an alum who "just wanted to help." He told me that he learns best by helping other students succeed, and this was something he enjoyed doing outside of his full-time job.
Ajmal to this day has been a mentor and friend. He has a strong visual aesthetic and a logical approach to problem solving which makes him a talented developer and designer. What impresses me most about Ajmal is his ability to distill seemingly complicated problems into simple terms. I feel very fortunate that my program connected me to Ajmal and grateful for his time and mentorship. He's taught me a whole lot about the industry and given me the confidence to pursue a career in product design. When I was freelancing, I was able to refer Ajmal to clients for highly technical work. He exceeded their expectations (no surprise). He's diligent, thoughtful, and goes above and beyond. Ajmal is a gem and anyone who works with him is lucky to have him on their team. "
— Melanie Tabroff (her Linkedin)
Kindness got me here
I saw this twitter thread the other day and it inspires me to share my own version;
I wouldn't be where I stand today without these personal heroes of mine;
Brian probably didn't even realize this but he was one of the first who taught me what empathy feels like on the receiving end, and how it changed my life for the better.
Jodi inspired me with her travels and stories on Legal Nomads. I traveled a lot in my 20s all thanks to Jodi. I'm inspired at how genuinely kind Jodi is and always remind myself to carry the same standard. Way back in 2011, I emailed Jodi asking for some photography questions and to my surprise, she was so humble and replied me. She taught me how to pursue my own passion and have courage to do it.
Chris was an online friend first and one day he came to KL for a conference. Back then I used to complain so much about how unlucky I was, then Chris decided to share his personal story and it made me reflect and gain perspectives. Chris taught me how we are in control of our destiny and future. Life is how we react to circumstances that happen to us.
I am so lucky to meet Hass as a colleague and later on, becomes one of the closest friends. Hass is like a brother to me, taught me so everything he knows. He's been there for me through my struggles, ups and downs. I won't be where I am today without his support and friendship.
Another thing that I am blessed and feel lucky about is that we can have different views and thoughts on things, but we engaged at it to understand other perspectives better and perhaps shine light on our blindspots.
This page was last updated on 19th Jan 2022,
by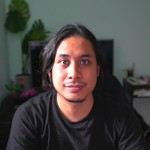 Ajmal Afif