Data Storytelling workshop by Kontinentalist
Published on 1st Aug 2022
I attended the virtual 2-day workshop on Data Storytelling by Kontinentalist. I had a high expectation going in and really glad that I took it. Some of the raw impressions I had with the whole experience:
There is "homework" sent for us to prepare a week or so before the session. I didn't know what to expect when I first saw it. But when I saw there are options to choose between our own Netflix historical data and Co2 emissions for South East Asia & Singapore, I immediately thought this was going to be a fun one.
There is also a list of software to be downloaded and registered upfront. Miro is one of them I thought that is quite interesting and feels familiar. There is also another web-based SaaS software called "Fluorish". It gives me "Canva" vibes but for data visualization.
There is a cheat sheet to help us take notes during the workshop. It's in PDF, so I thought uploading the document on my Muse app must be a good idea. That way, I can write my notes directly on top of it but digitally.
There are a lot of mini-activities in between concepts and best practices shared in like a short lecture/sharing format. There are also short breaks throughout the day.
The whole workshop is quite dense and I can imagine it can be quite intimidating. Especially looking at some of the best-in-class examples and feeling the gap between our knowledge and that level of mastery.
There are some activities that feel familiar, like storytelling, accessibility and design best practices. Even having some background and understanding of some technical stuffs like binding mouse scroll with interaction and transition of some modules or components, the whole idea of piecing all these key areas and skillsets together is no easy feat.
Throughout the session, I kept thinking to myself data storytelling is a great area to showcase what a skilled generalist could thrive on.
Personal Takeaways
These are some of the key insights from my notes from those 2 days:
iterations without a doubt, is applicable anywhere, in any type of craft. Including Data Storytelling.
I started the workshop choosing Co2 emissions data at first, but then I realized telling a story with facts can be intimidating and scary. So I figured it's better for me to start with personal data to experiment and learn the basics.
There are other points and tips like "one message per visualization" and 7 types of data stories framework.
I find the fact that there is physical data visualization and data sonification blew my mind.
Overall, the workshop opened my mind and perspective on data visualization. Now I wish there was a small community or circle of data viz beginners to practice together with! Maybe that's an idea worth exploring by itself 🤔
This note was last updated on 1st Aug 2022,
by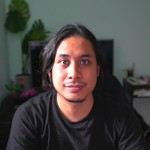 Ajmal Afif